Shop sales!
BFCM sales up to 80% off, plus free US shipping over $50!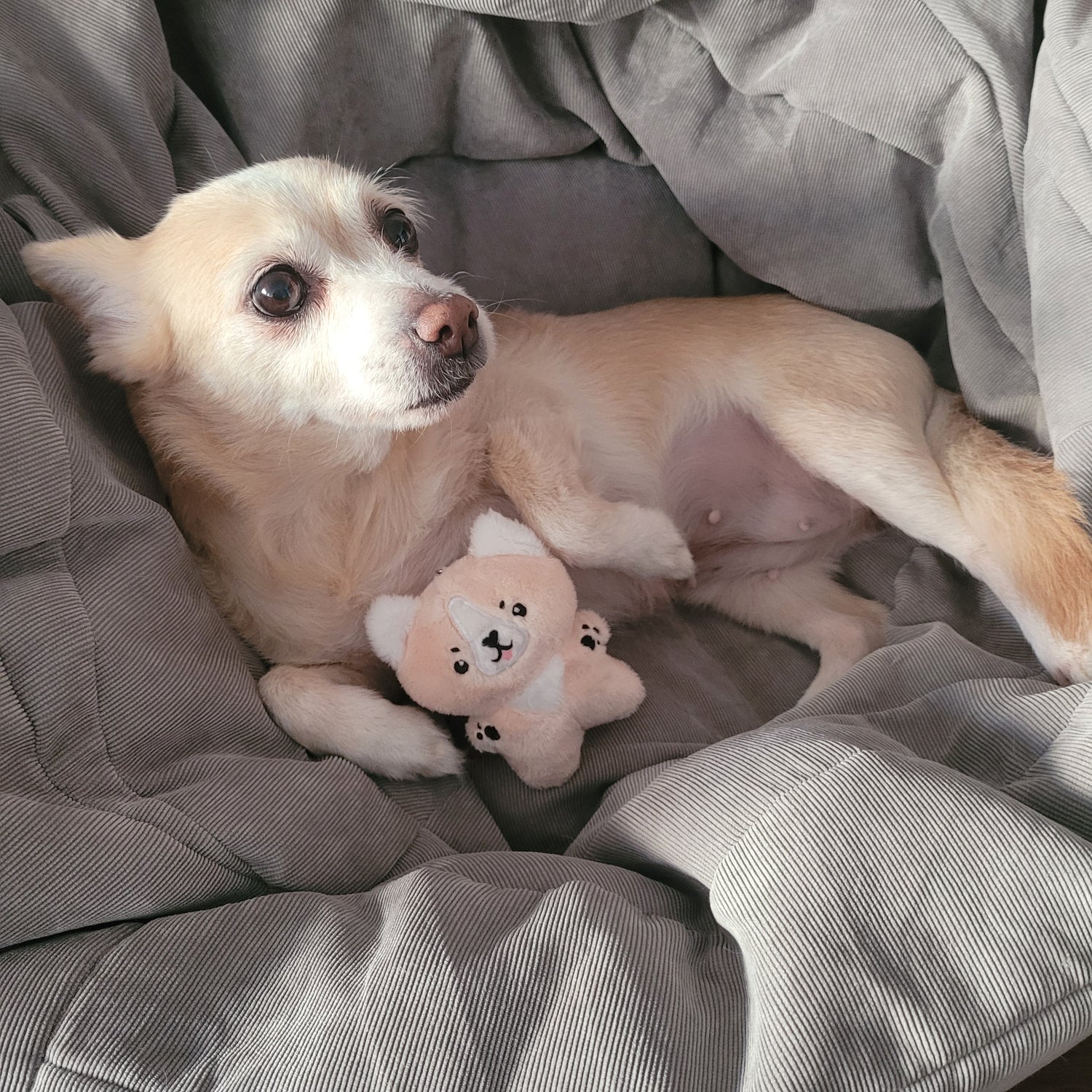 Do you feel Bonita?
Bonita is the name of our dog and mascot, in which our brand is named after!
Bonita merch!
Collapsible content
About

About us:

Hello! We are a couple and their dog who love pins. Starting out as avid collectors, we decided to branch out into the pin making world. Designs ideas are all by us, some will be commissioned and some will be our own art! Please enjoy our designs as much as we do!

 

About our name:

Bonita is the name of our dog and our brand mascot! Bonita is also Spanish for cute. Add in chotto (Japanese for a little) and we are both a little cute and a little bit of Bonita!
Shop Policies

All pins are handmade

Due to this, they my have slight defects. We inspect each pin for quality and grade the pins accordingly but even the highest grade may have imperfections. By purchasing anything from us, you agree to this fact and the rest of our shop policies.

 

Pin Grading Guidelines

We hand inspect our pins carefully, but pins are handmade and each batch may come out differently. Enamel colors are hand mixed, pins are hand filled, and many small factors can affect the "quality" of a pin. We do not sell perfect pins, we sell pins that are handmade and displayable. 

Standard - All items are HANDMADE. This means that these pins may have a few to several small flaws noticeable on close inspection. This includes small pricks/dings, specks, slight under or overfill, or other small issues. At an arms length and on a board the pin will look great.

Seconds 

- These will have a few to several noticeable flaws such as a large dings, overfilled or underfilled enamel, extra specks, misprint, small discolored areas, very flawed effects, and more. They may be noticeably flawed even at a distance. These are great to wear and display but are by no means perfect. 
C Grade

 

- These will hopefully be few and far between. These may have extremely noticeable damage that affects the entire image of the pin. This would include a major defect like very large areas of miscolored or missing enamel, very large gouges/chips in the enamel, and extremely noticeable face flaws such as a large chip in the face. These are noticeably flawed even at arms length but still wearable!

 

Order Inquiry

Email us at bonitaspins@gmail.com for assistance. Please include your name and order number and we will respond within 2 business days. Please bump your email if we do not! There is also a contact form on our site you may use as well. DO NOT DM US ABOUT YOUR ORDER, USE ONLY EMAIL FOR ORDER PROBLEMS. DMs are easily lost and this can lead to longer wait and miscommunications. Additionally, please email us in a timely manner, we can only solve problems and replace items within a reasonable timeframe. For example, if a year has passed since your tracking updated, there will not be anything we can do. Tracking numbers expire in 90 days, so please get to us before then. 

 

Shipping

All items are shipped tracked and you may purchase shipping insurance as well. Once an item scans into the post office, we are no longer responsible for the package. If the post office loses or damages your item, please contact the post office to resolve the issue. We are not responsible for mail once it is scanned in, so we encourage everyone to purchase shipping insurance, especially for international packages. If your international package is returned to us because it was not picked up or customs was not paid, you will not receive a refund, but you may pay a new shipping fee and we can re-send the package. 

 

Shipping times

In hand orders will be shipped within 10 business days. We drop off orders every Wednesday and Friday. Preorders will be shipped up to 10 business days after the pins are received from the manufacturer and quality checking is complete. Quality checking can take up to two weeks for large orders.

 

Combine Shipping

Please EMAIL to combine orders made within 48 hours of each other. Preorders and in hands can not be combined with each other. We only combine orders made with the same card information and made within 48 hours of each other. This rule is in place to make our shipping more efficient and accurate. We do not automatically combine shipping.

Please do not order in hand items with preorders, we do not have space to hold your order and there is no guarantee we will still have the in hand items when your preorder is ready to ship. Additionally, you will have to wait much longer as your order will not ship until all items are ready. 

 

International Shipping

We ship to the UK, EU, Australia, and anywhere not blocked by USPS. For UK and EU shoppers, you are responsible for fees upon receipt of your package. Any postal/customs/VAT fees upon receipt of your order are not our responsibility. If your international package is returned to us because it was not picked up or customs was not paid, you will not receive a refund, but you may pay a new shipping fee and we can re-send the package. We highly encourage all international buyers to purchase shipping insurance in case of lost or damaged packages, we are not responsible for your package once it is scanned in by USPS. We are not obligated to replace or refund anything once it is scanned in, which is why we encourage insurance. We will not hold orders for international shipping, but to help you save on pricy international shipping, we offer flat rate international shipping starting at only $9.50 to Canada and $12 for rest of world. 

 

Pre-Orders

Pre-orders are in place to fund larger designs, or designs where we are unsure of the interest. Preorders fund production and are not the purchase of an item we have in hand, so when purchasing a preorder you are agreeing to wait anywhere from 1-6 months for your item. Receipt of the item depends on the manufacturer. After receipt we reserve up to 2 weeks to quality check the items depending on the size of the order. Only after production is complete, we receive the items from the manufacturer, then quality check the items, will your order ship. If this makes you uncomfortable please wait to buy the item in hand instead! We usually order extras (though they will be limited). Additionally, we do not offer full refunds on preorders. Due to the nature of production, and the fact that all items are handmade, there may be slight changes to colors and effects during manufacturing. Preorder purchases are to fund production which is why we can not offer full refunds on these. If you disagree with this, please wait to purchase in hand.

 

Returns

All sales are final. However, if you receive the incorrect item or a lower grade than ordered, please email us asap at bonitaspins@gmail.com and we will work with you to resolve the issue. If you file a chargeback before attempting to discuss any problems with us, you will be permanently banned from purchasing from our shop and all future orders will be cancelled and refunded immediately.     

Resale Rules

flipping in stock pins will result in a block/ban, if you need to sell pins that are still in stock, please sell them for what you paid (this applies to pins that have not dropped in hand yet as well)

selling p4p pins for profit or using them as trade bait will result in a block/ban

LE pins can not be resold or traded for 30 days (variant swaps are ok)

attempting to trade or sell before recieving the pin will result in your order being canceled & refunded immediately

preorder pins may only be sold for drop+ship+fees for 30 days

after 30 days, pins can be traded or sold for any price!